Ha sütőlemezre van szüksége, nálunk raktárkészletről azonnal beszerezheti, de akár egyedi méretű sütőipari eszközöket, sütőkocsikat és bagettlemezeket is rendelhet. 
Bent upwards on two sides – made to order
Special characteristics: robust, easy to load, cost effective,
The raw material of the baking sheet: 1.5 mm or 2.0 mm thick alloyed aluminium sheet,
Perforation: 2 or 3 mm hole diameter or sheets with no perforations,
Keret kialakítása: hosszú vagy rövid oldalakon, 45 vagy 90 fokban felhajtott peremek.
Upwards bent on three sides, strengthened – from our stock
Speciális tulajdonságok: hosszú élettartam és kiváló stabilitás a nyitott oldal 45°-os felhajtásának köszönhetően,
A sütőlemez alapanyaga: 1,5 mm (raktárról) vagy 2,0 mm (rendelésre) vastag ötvözött alumínium,
Perforáció: 3 mm lyukátmérő illetve perforáció nélküli tele lemez,
Keret kialakítása: nyitott rövid oldalon 45°-os felhajtás, négy sarok hegesztve – B típus.
The dimensions of the baguette sheets are the same as the ones of the standards baking trays. Their finish is determined by the structural shaping of the framing,, the direction of the throughs, (parallel with the short or the long side), and the number of the waves, so there can be 4-10 through type sheets as well.
A bagettlemezek 1,8 mm-es átmérőjű perforációval készülnek, hogy a tészta ne folyhasson bele a lyukakba. Az ötvözött alumínium lemezek jól bírják a hőmérséklet ingadozást és magasabb hőfokon is sokáig stabilak maradnak. A bagettlemez hullámok rögzítése a kerethez rozsdamentes szegecsekkel történik, ez sokkal időtállóbb, megbízhatóbb kivitelt eredményez, tehát nem kell tartani a szegecsek kiesésétől, ami sok kellemetlen perctől kíméli meg használóját és az üzemet.
We need the following information to make an offer regarding the baguette sheets: dimensions of the sheet, number of waves, which side to be parallel with, shape of the waves, , in case of some products it may be important to know the dimension of the distance between the waves, what size of perforation does the characteristic of the dough need, what frame is needed (lower-upper, stainless steel, etc.), is there need for any coating (Teflon, etc.), any other specification defined by the product to be made.
Standard type baguette sheet – made to order
The "original" baguette sheet, as the manufacture of this is the simplest form the production technology point of view, so this was the pioneer baguette baking sheet. We recommend it for smaller bakeries where comparatively fewer products are baked. Due to its simplicity it is the make used for individual dimensions. The aluminium frame is made of L-profile and fixed by welding.
Special characteristics: strong make for competitive price,
Shape of the waves: round waves,
Side (end) of the waves: closed,
Corners: angular,
Finish of the frame: all round angular profile aluminium frame,
Sheet fixing to the frame: spot welding,
The raw material of the baguette sheet: 1.0 mm thick alloyed aluminium.
Master type bagett lemez – made to order
It is one of the cheapest aluminium baguette baking trays to be manufactured, still it is massive and enduring. The baguettes can be easily slid off the waved sheet due to the open wave ends. The frame is aluminium hollow section so the structure is light and rigid. We recommend them mainly for those bakeries where the baguette sheets are moved by hand and there are no special demands.
Special characteristics: robust, strong make for the baking trolley use,
Shape of the waves: round waves,
Side (end) of the waves: open,
Corners: rounded,
Make of the frame: bent aluminium pipe frame,
Fixing of the sheet to the frame: with stainless steel rivets,
The raw material of the baguette sheet: 1.0 mm thick alloyed aluminium.
B type baking tray
quality of the material: AlMn
elérhető méretek:
perforált lemezből: 580 x 780 mm; 600 x 800 mm; 580 x 980 mm; 600 x 400 mm
teli lemezből: 600 x 400 mm
Baking trolleys, leavening trolleys
We offer more possibilities to our partners from the stainless steel baking tray types – keeping in mind the necessary characteristics, adjusting to the types of ovens and the different specifications of the manufacturers.
Main oven types:
– König Roto Passat
– WP-Rototherm
– MIWE
– Bongard
– Mondial-Forni etc.
We offer baking trolleys with heat resistant wheels for the bottom, top drive rotating ovens. Besides this special demand you may also order the more simple design leavening trolleys, too. We have technical drawings for the more common trolley types but in case of demand, if the customer provides the technical documentation, the manufacturing may be done upon them.
example of baking trolley – for MIWE oven
leavening/sheet storing trolley
The sides of the trolley are made by bending the hollow section, then the elements are welded and are shipped "in one piece" to our customer, where it can be immediately used.
EXPORT assembly kit (Flex)
The sides of the trolley are made by bending the hollow section, but the side, bottom and top elements are not welded together, they are to be assembled using bolts and nuts. Putting the elements on top of each other it is possible to use much less space at transport. This is a cost efficient method when transporting on longer distances.
A sztenderd méretű sütőkocsikhoz ajánljuk strapabíró takaróponyváinkat.
Elérhető méretek:
64 x 44 x 165 cm
60 x 40 cm-es tálcákhoz
86 x 72 x 165 cm
78 x 58 cm-es, és 80 x 60 cm-es tálcákhoz
107 x 72 x 165 cm
98 x 58 cm-es tálcákhoz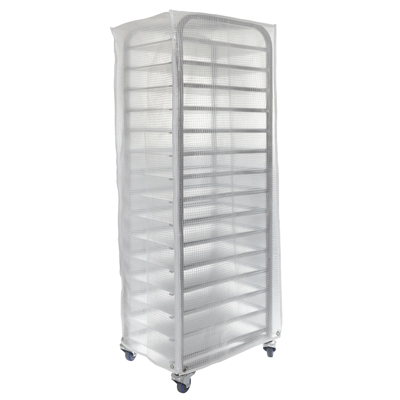 Sütőformák kenyérhez, süteményekhez és pizzához
Többféle termékhez kínálunk különböző méretben és bevonattal sütőformákat.
Kínálatunkban egyaránt megtalálhatóak a téglalap alakú, kerek és hosszúkás sütőformák is,
Igény esetén tapadásmentes bevonattal is tudjuk őket szállítani.
A tapadásmentes tulajdonságainak köszönhetően nem csak a sütőformák tisztítása lesz egyszerűbb.
A kéreg megfelelő ütemben képződik, egyenletesen barnul és ropogós marad.
Kínálótálcák és állványok
Számtalan különböző kínálótálcát és állványt forgalmazunk, melyek rendelésre elérhetők.
A lekerekített sarkú kínálótálcák alumíniumból készültek, hegesztési
varratok nélkül, így rendkívül higiénikusan és könnyen tisztíthatók.
Többféle színben elérhetők:
az ezüst mellett arany, pezsgő és fekete kínálótálcát is forgalmazunk.
A tortaállványok szintén több kivitelben érhetők el kínálatunkban.
Forgalmazunk három, négy és ötszintes állványt is.
QUOTATION
We will call you back.